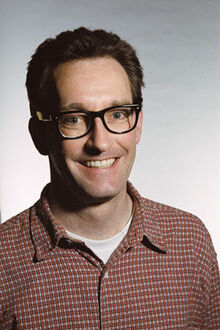 Thomas James "Tom" Kenny (born July 13, 1962) is an American actor and voice actor who voices Dog in the TV Series CatDog (1998) and voices the title character on the famous Nickelodeon TV series SpongeBob SquarePants (1999).
Characters Voiced
Edit
Airplane Announcer
Mailman
Male Dog
Native #2
Cop #2
Kid
Dog #1
Old Lady
Small Athlete
Guest #1
Cop
TV Newsman
Vice President
Pirate
Elegant Dog
Goat
Ad blocker interference detected!
Wikia is a free-to-use site that makes money from advertising. We have a modified experience for viewers using ad blockers

Wikia is not accessible if you've made further modifications. Remove the custom ad blocker rule(s) and the page will load as expected.