Princess Kitaen

Name

Princess Kitaen

Gender

Female

Species

Unknown

Occupation

Princess

Relatives

None

Friends

Enemies

Voice Actor

Appearance
Princess Kitaen is a character in the episode "Spaced Out".
Princess Kitaen is an alien who is the damsel in distress in the movie Mean Bob in Space, Part 12. She was held captured by the Salivians in Big Kipper Asteroid. Space Mean Bob was originally meant to save her but when CatDog accidentally replaced him as the heroes in the movie, they took his role instead to save her.
When CatDog finally arrived to Princess Kitaen's cell, Kitaen congratulated them by kissing
Cat
. When her cell is opened, it is revealed that she has a green body with slimy arms and four root-like legs, much to Cat's disgust, though
Dog
and the movie audience liked the new romance.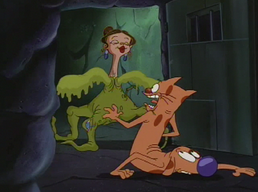 She appears to be a parody of Princess Leia of Star Wars fame.
She is named after the episode's production manager Kim Kitaen.
Ad blocker interference detected!
Wikia is a free-to-use site that makes money from advertising. We have a modified experience for viewers using ad blockers

Wikia is not accessible if you've made further modifications. Remove the custom ad blocker rule(s) and the page will load as expected.