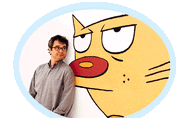 Peter Hannan (born August 13, 1954) is a television producer best known for creating CatDog. He is also a voice actor and sings the theme song of the show. Other works he made are Super Goofballs, The Sillyville Saga novels, Really Freaking Embarrassing and a number of artworks.
NOTE: Hannan is created as an executive producer, staff writer, main character designer and for writing and performing the theme song in every episode. These are just his writing and voice acting credits.
Season 1:
Season 2:
Season 3:
Talking turkey_ Voice of Man holding a balloon
Lube in love_ Voice of Radio singer
Season 4:
Ad blocker interference detected!
Wikia is a free-to-use site that makes money from advertising. We have a modified experience for viewers using ad blockers

Wikia is not accessible if you've made further modifications. Remove the custom ad blocker rule(s) and the page will load as expected.