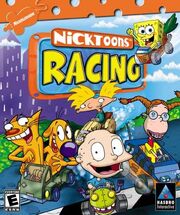 Nicktoons Racing
is a Nickelodeon crossover racing game for the Game Boy Color, PC, PlayStation, Game Boy Advance and arcade
.
Gameplay
Edit
Nicktoons Racing focuses on engaging players in go-kart racing on various Nicktoons-themed tracks, similar to the Mario Kart series. The game features a wide selection of playable characters from various Nicktoons, including characters from SpongeBob SquarePants, Rugrats, The Ren & Stimpy Show, Aaahh!!! Real Monsters, Hey Arnold!, The Angry Beavers, CatDog, and The Wild Thornberrys.
Various Nickelodeon characters each receive a letter invitation to compete in a Grand Prix for the top prize, the Krusty Krab Big Bun Award. The host of the competition, also the individual who sent the invitations, is an unknown, unseen driver of a sleek, black car with a tinted dome window simply dubbed as the Mystery Rider, which the participating racers are challenged to beat, as well as each other.
Playable Characters
Edit
From Rugrats:
From Hey Arnold!:
secretly in love with him. Like Arnold, she drives a cardboard soapbox kart.
From The Wild Thornberrys:
From CatDog:
From The Angry Beavers:
together in a little log, but in the GBC version, they drive separately and their names are labeled vice versa.
From Aaahh!!! Real Monsters:
From The Ren and Stimpy Show:
pre-chewed gum, and his pal, Ren Hoek. He drives a litter box. He does not appear in the GBC version.
From SpongeBob SquarePants:
the Krusty Krab and his pet snail, Gary. He drives a car that resembles his pineapple house.
He always tries to think of ways to steal the Krabby Patty formula. The reason he enters the race is so he win the year supply of Krabby Patties. He is an unlockable character.
Reception
Edit
The PlayStation game was not reviewed on IGN, while the Game Boy Color version seemed mixed or negative with a 3.0/10 from IGN.[2] The Game Boy Advance edition received an 8.0/10 on IGN.[3]
Ad blocker interference detected!
Wikia is a free-to-use site that makes money from advertising. We have a modified experience for viewers using ad blockers

Wikia is not accessible if you've made further modifications. Remove the custom ad blocker rule(s) and the page will load as expected.