Fred the Flying Fish

Name

Fred

Gender

Male

Species

Flying Fish

Occupation

None

Relatives

None

Friends

Enemies

Voice Actor

None

Appearance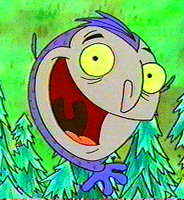 Fred the Flying Fish is a character in the episode of the same name.
CatDog tries to search for Fred the flying fish, and CatDog falls down from the chasm, Fred catches CatDog to fast, saving their lives. He likes to eats flying worms, then Cat sold out Fred to Rancid Rabbit. Later, CatDog decided to see Fred for one time at the circus, and they saw Fred in chains, and CatDog decided to save Fred, and Fred flies around and he swallow Rancid in whole, and he eat all the money from CatDog and later he spits out Rancid.