Crocodile

Name

Crocodile

Gender

Unknown

Species

Crocodile

Occupation

None

Relatives

None

Friends

Probably other crocodiles

Enemies

Voice Actor

Appearance
The Crocodile is a character in the episode "The Golden Hydrant".
The Crocodile is a large dark green reptile living in the sewers beneath the museum that housed the Golden Hydrant. It was first seen when Eddie was being dropped into three crocodiles, though Eddie survived the attack.
When CatDog realized that the Golden Hydrant is fake, Dog says that nothing gets worse. The Crocodile replies to him him and breaks out of the museum chasing CatDog, the Greasers and Eddie. It chases them and then swallows them after falling from a cliff.
When the swallowed characters found themselves to be inside the stomach of the Crocodile, it is revealed that it had eaten landmarks and treasures, including the real Golden Hydrant.
It is last seen walking to Nearburg with Cat saying that the Hydrant is probably real.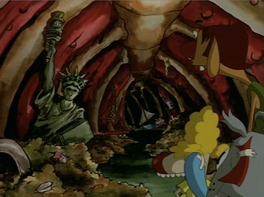 Ad blocker interference detected!
Wikia is a free-to-use site that makes money from advertising. We have a modified experience for viewers using ad blockers

Wikia is not accessible if you've made further modifications. Remove the custom ad blocker rule(s) and the page will load as expected.