Home
Talk

4
167pages on
this wiki

Featured Article

---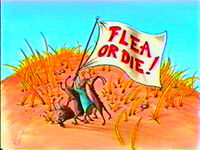 "Flea or Die" is the third episode of the CatDog series.
Characters Present: Cat, Dog, Fleas, Rancid Rabbit, Mr. Sunshine, and Rat.
Summary: Cat and Dog accidentally gets fleas in their body from a rat. As a result they wear a flea belt from Rancid. However it is unpopular to wear in Nearburg and each brother who have the belt close to their head will repel fleas but the fleas will move to the other brother that is not wearing the belt.
---
Nearburg News
CatDog was cancelled in 2004. But you can still catch Cat, Dog, Winslow, and all the others in reruns of the show. About CatDog
CatDog was a Nickelodeon television series focusing on the life of a cat-dog hybrid, their friends, and their enemies. The show was cancelled early, though it is still playing in reruns on TeenNick.
Other Nick Wikis
Visit other wikis based on NickToons.
|}